Hi @yohan17797,
I just ran your website through GTMetrix again and it seems that you are getting pretty amazing performance scores now ("A" score with both PageSpeed and YSlow), so I honestly don't think there is much more you can do to make it faster (please see attachment).
The only other suggestion that I could give you at this point would be getting a high performance dedicated server (which obviously comes at a higher cost).
And if you haven't already done this, you can also read the WP Rocket guidelines on how to find the best settings for your website:
https://docs.wp-rocket.me/article/1291-find-the-best-settings-for-your-site
The WP Rocket documentation also has a lot of other helpful articles if you want to go even further.
Regards,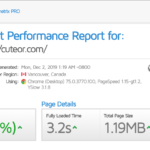 Capture-d'écran-2019-12-02-à-10.20.23
December 2, 2019 at 10:36
#8635