Thank you for the screenshot.
After taking a look at your website, it seems like you have imported the demo content without the Elementor option.
If you want to use Elementor, you need to check the "I want to use Elementor" box when you choose your demo in the import wizard (please see attached screenshot). If you don't check that box **before** importing the demo, Elementor will not work for editing the pages.
Since you already imported your demo, I'm afraid you will need to delete your current install and make a fresh one, and then re-import the content with the Elementor option checked.
Hope this helps.
Regards,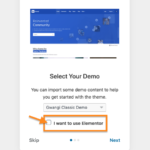 Capture-d'écran-2020-01-24-à-15.25.15
January 24, 2020 at 15:30
#9484