Hi Mahtab,
Please find the attached screenshot. There are only 6 required plugins to make the Gwangi theme works fine. However, the use of the others plugins depends of the features you need.
As you did, you have to take a look at the bottom of the envato Gwangi theme page : https://themeforest.net/item/gwangi-dating-community-theme/21115855
You'll see all the plugins compatible to our theme and the description. If you don't need the feature described, you can deactivate the related plugin if it's activated on your website.
To update the theme, you just have to update the parent theme. For more about this, please click on the following link:
Best,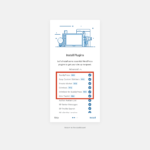 Capture-décran-2021-02-04-à-15.27.42
February 4, 2021 at 15:35
#28611