Hi Miguel,
These words have to be translated using WPML String translation. You have to search these words in BuddyPress Multilingual. Please find the attached screenshot.
You already translated them, which means there is an issue between this plugin and WPML.
As I told you, if the WPML team assures that it has no responsibility for this concern, we suggest you try to reach the BP Profile Search plugin authors.
To go further, we invite you to post your request on their support forums:
https://wordpress.org/support/plugin/bp-profile-search/
We hope they will be able to solve this issue.
Best,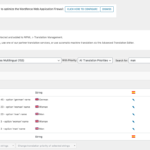 Capture-décran-2021-02-23-à-17.27.05-1
February 25, 2021 at 08:45
#29221