I have disable all unnecessary and also disable cache and security plugin but no luck!
The theme version is not the latest version. The reason I have not updated the theme is the new version of theme have not "Template: Full Width" in page attributes.
How reach it in new version of them?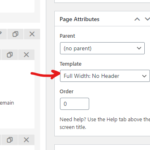 Screenshot-2021-02-25-140146
February 25, 2021 at 11:32
#29242