Hi Mohammad,
You can set a padding in Customize > Appearance > Pre Footer > Style and change the Vertical Padding.
Please find the attached screenshot.
Note that you can relaunch the setup wizard to import the customizer options. Go to Dashboard > Appearance > Theme Setup :
Select the demo
Skip the plugin installation
On the Import Content step, click on Advanced to check ONLY the Options and the After Import.
🚨 However, please note that all the options and you have set in the customizer and the menus will be reset.
Best,
Capture-décran-2021-03-17-à-10.28.46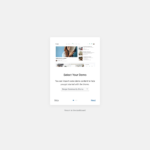 Capture-décran-2021-03-17-à-10.28.16
Capture-décran-2021-03-17-à-10.25.57
March 17, 2021 at 10:34
#29915