Hi Catta, 🙂
Can you confirm me you activated the header by checking the Display Header Image option in Customize > Pages > Single page, please? Please find the attached screenshot.
Please note that using the Homepage Template and Minimal Template will hide the header on the specific page so you can use a Grimlock Section to create a custom header on this very page.
Hope this will help you get what you're trying to achieve.
Let me know if you need more explanations. 🙂
Best,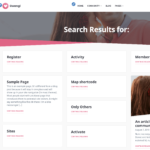 Capture-décran-2021-03-24-à-08.27.11
March 24, 2021 at 08:32
#30098