Hi @pragmacafe,
After checking on your website, I noticed that the snippet I gave you for the front page issue was commented out (see attached screenshot)
Since it was commented out, of course it wasn't working anymore and the issue reappeared, even on your front page. I have uncommented it, and the issue is now fixed again.
Please note that we will release an update in the coming days which will fix this issue anyway. We will notify you when the update is available, at which point you will be able to remove that snippet.
Regards,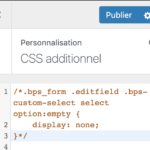 Capture-d'écran-2019-11-20-à-16.29.44
November 20, 2019 at 16:33
#8488