Hi @pragmacafe,
I see what you're looking for. Unfortunately, as you can discover from our demos, this is standard behavior in our theme (please see attachment).
To change this, you require custom coding as to my knowledge, there is no plugin that you could install to add this feature to your website.
For one, we recommend you try to reach MeshPros and request a customization quote:
https://meshpros.com/customizations/
These guys are the author of Match me for BuddyPress, a plugin that recommended to provide the matchmaking feature to your website. You might be already using it. They've quite a lot of experience with WordPress and BuddyPress development and might be better suited to help you.
If you're on a tight budget, we recommend you to require the services from Envato Studio freelancers (https://studio.envato.com/explore/websites-programming). This web platform gives you access to developers who have already experience with theme customizations, and for very competitive prices.
Best,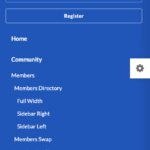 Home-Gwangi-Classic
December 9, 2019 at 16:57
#8758