Hi @keenimages,
Unfortunately, the logo will not be displayed in the pop-up as seen in our demo. (Please see attached.)
Furthermore, the login pop-up does not support WP Social Login yet.
However, I suggest that we move this topic to our feature requests forum. We will implement this feature if other community members upvote this request.
We'll keep you informed. Thank you very much for contributing to this theme!
Best regards,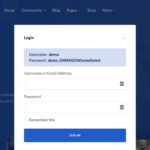 Home-Gwangi-Classic
January 14, 2020 at 18:26
#9283