Hello,
First of all, can you set the in WP-rocket add on cloud fare to development test if you log as an admin to change our settings. I put a screenshot for the next time you interact.
Well, the form code [bps_form id=204 template=members/bps-form-home] located in appeareance> appearence> banner has been deleted from the home page because it crashed the homepage
In fact, the home form doesn't appear
In the case of the video, in my browser it works but in your case not . It seems there is a problème somewhere.
I confirm the current issue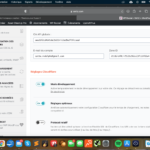 Capture-decran-2021-01-28-a-14.02.58
January 28, 2021 at 14:15
#28289