No problem @wervil. I think I didn't understand exactly your issue. Let me start over, please. 🙂
First, your issue was that when you try to edit the member page, you didn't find anything in the back end. Am I right?
In that case, be aware that there are limitations imposed by third party plugins and as theme authors, there's nothing we can do about those. This page is programmatically generated by BuddyPress and cannot be edited, even if selecting one of the suggested page templates. Changing the layout for these pages require creating a child theme and use custom code.
If you wish to know more about BuddyPress templates and child themes, please read the following posts:
Concerning the form: I think the form has been misconfigured. I suggest you to go to Dashboard > Users > Profile Search and edit the Search Directory form. Then, can you make sure the Target Directory and the Form Template are set up correctly, please? Please find the attached screenshot. To know more about how to edit the member search form on your members directory page, please click on the following link:
Finally, here is some specifications:
The Kirki plugin is an amazing customizer toolkit that we use within Grimlock to create and manage all the fields in the WP customizer. The Kirki plugin will do nothing on its own and Grimlock will not work without Kirki so both of them are required for your theme.
In conclusion, Kirki and Grimlock give you the possibility to customize your theme.
I'm very sorry for this inconvenience and I hope this will be much clearer.
Let me know if you need more explanations and if this issue is solved. 🙂
Kind regards,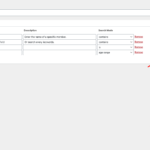 Capture-décran-2021-01-25-à-16.32.01
January 25, 2021 at 17:05
#28159